Learning Method and Materials
What "skills" can I acquire by studying at each level?

At the advanced level, you will develop your vocabulary and reading comprehension through reading original books in Japanese. You will also learn the various expressions that you have studied up to Level I in context.
By the time of completing Level L, the final level of the Kumon Japanese Language Program, you will have learned about 1,000 kanji (accumulated) and about 6,380 words (accumulated), and studied a long passage of about 6,000 characters, which will be the longest piece of work you will study. Through these studies, you will gain sufficient ability to try the Japanese-Language Proficiency Test Level N2.
*For those who want to try higher levels, the Kumon Kokugo (Japanese) Program (for Japanese native speakers)
is available to continue your study, after you have completed your study of the final level of Kumon Japanese
Language Program.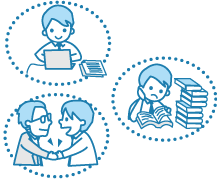 Level J
Skills to acquire

Gain a range of vocabulary through reading works from different fields
Confirm the elements you have learned up to Level I in context
Nurture the ability to understand Japanese texts even if the order of words and sentences are changed

Subjects of works
Ten works in total including,
Irohagaruta (Kumon's original)
A Bunch of Grapes (Takeo Arishima)
The Culinary Culture of Japan (Kumon's original)
Kiki's Delivery Service (Eiko Kadono)

Level K
Skills to acquire

Gain a range of vocabulary through reading works from different fields
Acquire the ability to transform expressions without changing the original meaning
Acquire the ability to answer questions using appropriate sentence-endings.

Subjects of works
Eight works in total including,
The Era of the Samurai (Kumon's original)
Dogs (Masanori Hata)
Let's Spend Our Vacations Lazing Around (Rika Kayama)
Botchan (Soseki Natsume)

Level L
Skills to acquire

Gain a range of vocabulary through reading works from different fields
Further enhance your ability to transform Japanese expressions
Further enhance your ability to answer questions on your own

Subjects of works
Nine works in total including,
Postcards with No Characters (Kuniko Mukoda)
Run, Melos! (Osamu Dazai)
Fifty Stories to Know the Earth (Hideki Shimamura)
The Intelligence of Scientists (Torahiko Terada)